The Hotel
The Kyriad Hotel Saint-Quentin offers a wide range of services for your comfort. Check out these services in the different room types we offer: The Comfort room, the Executive room, the Triple and Family rooms.
In every room at the Kyriad Saint-Quentin, you can enjoy free wifi, enclosed parking, Canal+ and Bein sports and many other TV channels, especially a private bathroom equipped with a shower, so that your stay will be synonymous with relaxation, whether you come on a business trip or a family vacation. If you are looking for a hotel room in Saint-Quentin, enjoy the comfort and hearty breakfast at the Kyriad! For more information on the hotel, don't hesitate to contact us at: 03.23.08.45.00









Presentation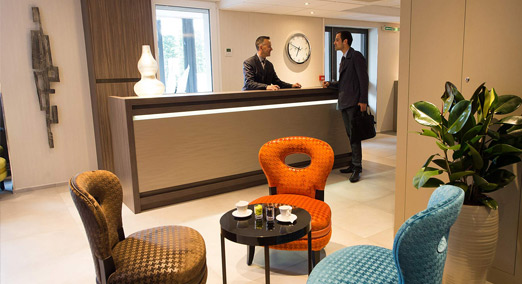 Our Saint-Quentin hotel is located in a particularly attractive tourist area, with many nearby sites to visit, starting with the St. Quentin Basilica, listed as an historical monument and housing the relics of St. Quentin. The town hall is a beautiful monument, built in 1509. There are also many museums: the Butterfly Museum, Archaeological Museum, Antoine Lécuyer Museum... Take advantage of your stay at our hotel in Saint-Quentin to explore this beautiful and historic city.
Voted France's most sporting town in 2011, Saint-Quentin also knows how to welcome professionals. In our hotel, you'll find a seminar/conference room, fully equipped for the occasion (overhead projector, modern electronics equipment, etc.). Even with less than 24 hours' notice, our organizing team can set up the room for your conference.
Lastly, because we make it a point of honor to satisfy all our customers, an elevator makes all our rooms accessible to disabled guests. So if you are looking for a hotel in Saint-Quentin, think Kyriad!